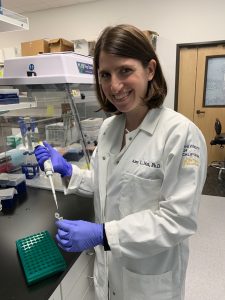 Professor of Anthropology at University of California, San Diego
alnon@ucsd.edu
I am a molecular anthropologist with an interest in the genetic and sociocultural contributors to racial and social inequalities in health. My lab investigates how social experiences can become biologically embedded early in life to affect health throughout the life course. To do this, I explore epigenetic mechanisms, or modifications to the genome, that can link early adverse environmental exposures with altered gene expression, potentially resulting in long-term consequences for adult health and disease. My lab has investigated DNA methylation at candidate sites in relation to early life adversity in Romanian orphans and genome-wide in children of Mexican-born immigrants, among other vulnerable populations. We are also investigating variation in microRNAs in human milk in relation to maternal mental health and stress. Additionally, we study racial inequalities in health more broadly by investigating the role of genetics alongside the social environment to explain racial inequalities in chronic diseases including hypertension, liver disease, and lung function.
Visit the research and publication pages to learn more about my past and current work.
Recorded Symposia
http://www.bec.ucla.edu/presentation.php?id=500
Research in the News
July 4, 2018
June 3, 2016
Social adversity early in life may affect the expression of stress-related geneshttps://www.eurekalert.org/pub_releases/2016-06/w-sae060316.php
June 22, 2013
The new science of blaming moms.
http://www.msnbc.com/melissa-harris-perry/the-new-science-blaming-moms

November 30th, 2012
 http://news.vanderbilt.edu/2012/11/new-faculty-amy-non/
August 13, 2012
Expansion of MHS department at Vanderbilt
http://chronicle.com/article/5-Professors-Join-Vanderbilts/133539/
June 15, 2012
Racial Disparities in Hypertension Related to Education, not Genetic Ancestry
http://www.rwjf.org/content/rwjf/en/about-rwjf/newsroom/newsroom-content/2012/06/education-not-ancestry-key-to-hypertension-in-african-americans.html
http://healthyliving.msn.com/?cp-documentid=250012269
http://health.usnews.com/health-news/news/articles/2012/06/15/better-educated-blacks-lower-odds-of-hypertension-study