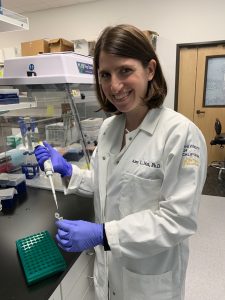 Associate Professor of Anthropology at University of California, San Diego
alnon@ucsd.edu
I am a molecular anthropologist with an interest in the genetic and sociocultural contributors to racial and social inequalities in health. Currently, I am investigating how social experiences can become biologically embedded early in life to affect health throughout the life course. To do this, I am exploring epigenetic mechanisms, or modifications to the genome, that can link early adverse environmental exposures with altered gene expression, potentially resulting in long-term consequences for adult health and disease. In a current project, I am exploring levels of methylation in a number of stress-response genes in children raised in orphanages relative to those raised in foster care settings in Bucharest, Romania. My newest project is an investigation of the biological embedding of stress experiences of children of Mexican-born immigrants living in Nashville. In past research, I have also explored the role of African genetic ancestry and sociocultural measures of race and socioeconomic status in explaining racial inequalities in blood pressure, both in Puerto Rico and in the US.
Visit the research and publication pages to learn more about my past and current work.
Recorded Symposia
http://www.bec.ucla.edu/presentation.php?id=500
Research in the News
July 4, 2018
June 3, 2016
Social adversity early in life may affect the expression of stress-related geneshttps://www.eurekalert.org/pub_releases/2016-06/w-sae060316.php
June 22, 2013
The new science of blaming moms.
http://www.msnbc.com/melissa-harris-perry/the-new-science-blaming-moms

November 30th, 2012
 http://news.vanderbilt.edu/2012/11/new-faculty-amy-non/
August 13, 2012
Expansion of MHS department at Vanderbilt
http://chronicle.com/article/5-Professors-Join-Vanderbilts/133539/
June 15, 2012
Racial Disparities in Hypertension Related to Education, not Genetic Ancestry
http://www.rwjf.org/content/rwjf/en/about-rwjf/newsroom/newsroom-content/2012/06/education-not-ancestry-key-to-hypertension-in-african-americans.html
http://healthyliving.msn.com/?cp-documentid=250012269
http://health.usnews.com/health-news/news/articles/2012/06/15/better-educated-blacks-lower-odds-of-hypertension-study